This post may contain affiliate links. Please read our Disclosure Policy for details.
Jump to Recipe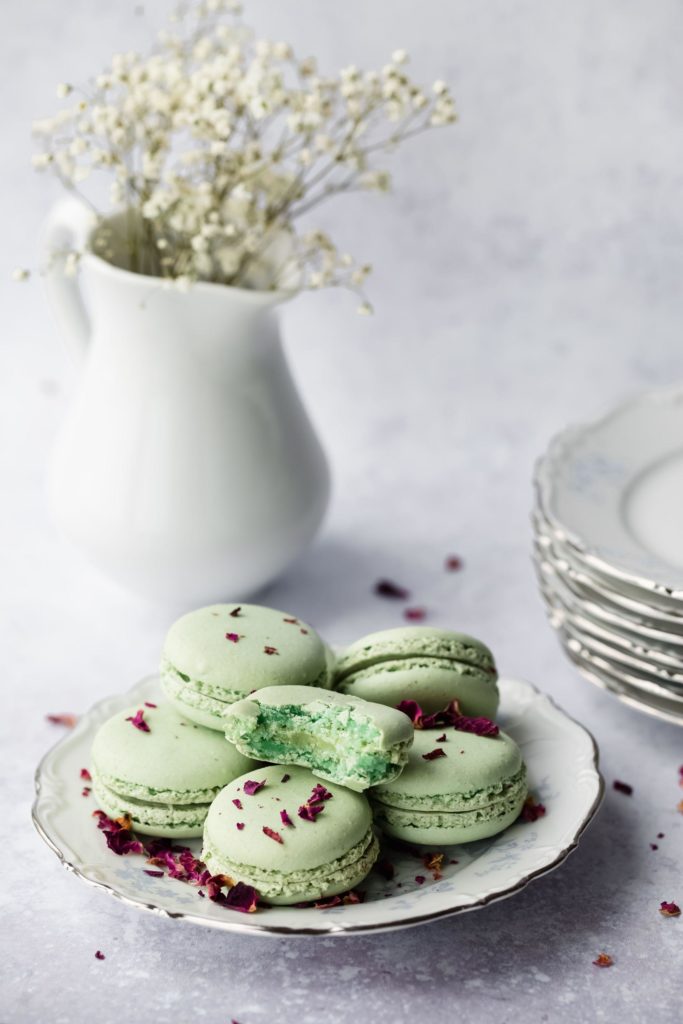 The most challenging recipe for me was [Macarons] for the first time! I knew how to make French Meringue, prepare the almond meal, and make the filling, but, the humidity in my kitchen flatten Macarons. I leave on a shore, each single day humidity was high. I was waiting for winter to make the perfect Macarons! it was a success, thank God!
I've chosen to make Pierre Hermé Macarons' recipe, from Pierre Hermé Macarons: The Ultimate Recipes from the Master Pâtissier(English version) because, he used Italian Meringue, rather than French Meringue, which is more stable, and for sure, about 70%, it's a successful recipe, if you follow the recipe slowly, and step by step. The most other crucial part was also baking, I had an old oven, with which I experiment with my recipes, for French Macarons and cakes. Each time, I was disappointed, until I know how to regulate it, and when I open the door, I was wondering how they used to bake Macarons in the 19th century!
My advice is if you can't afford a conviction oven, know your oven first before making Macarons, take notes each time, and never forget that practice makes perfect. Good luck!
For more French Macarons, visit Macarons recipes.
For making Macarons, the steps are always the same. I've written the basic Macarons recipe, which you can follow, but it is made with the French Meringue. Prepare your workstation [la mise en place], weigh the ingredients first, prepare the batter to make shells, and place in the oven, meanwhile prepare the filling, which you can make the day before.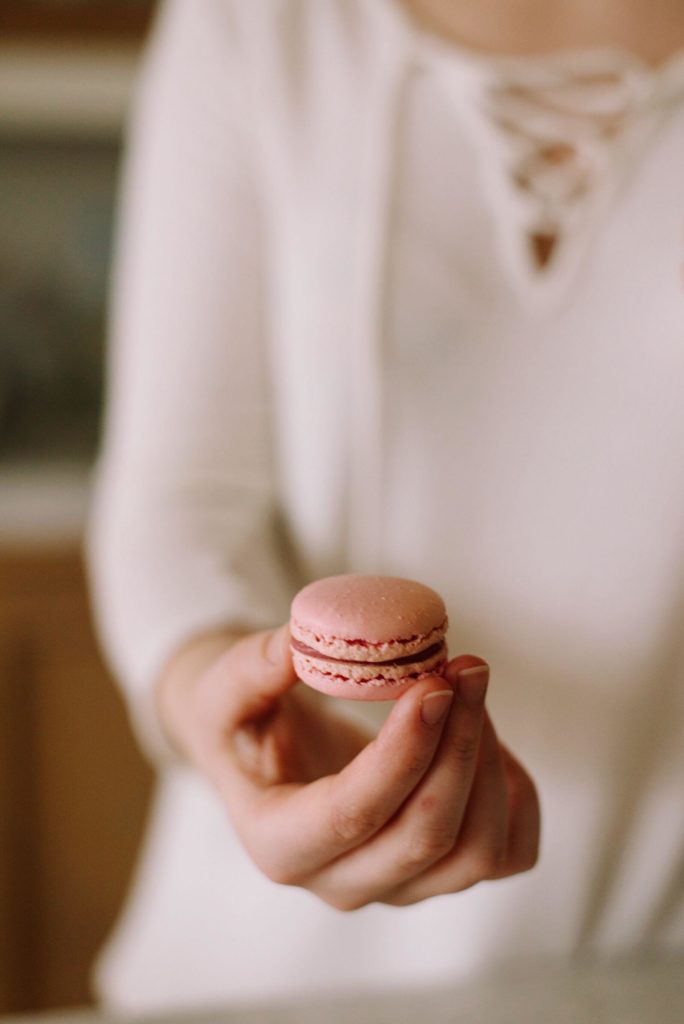 A beautiful Macaron has a foot, an even coque, the same size, brilliance, and a delicious filling.
French Buttercream Macarons
Cuisine: Dessert, French
Difficulty: Difficult
French Macarons are the most crucial French dessert because Macarons are sensitive to humidity and temperature.
Ingredients
Buttercream Filling

2 cups confectioners' sugar

6 oz raspberries

1 Tsp. vanilla extract

1/2 Tsp. coconut extract (optional)

2 Tbsps coconut milk

2 sticks salted butter, softened

1 vanilla bean, seeds scraped out

Macarons

1 3/4 cups confectioners' sugar

1 1/4 cups almond flour

1/4 cup coconut flour

2/3 cup egg whites, at room temperature (better if aged)

3 Tbs granulated sugar

1-3 drops of red or pink food coloring (optional)
Directions
For the Macarons
Preheat the oven to 300 degrees F using the convection setting. Line three baking sheets with macarons silicone mats. Measure the confectioners' sugar and almond flour by spooning them into measuring cups and leveling with a knife. Transfer to a bowl; whisk to combine.
Sift the sugar-almond flour mixture, a little at a time, through a fine-mesh sieve into a large bowl, pressing with a rubber spatula to pass through as much as possible. It will take a while, and up to 2 tablespoons of coarse almond flour may be left; just toss it
Beat the egg whites, cream of tartar, and salt with a mixer on medium speed until frothy. Increase the speed to medium-high; gradually add the superfine sugar and beat until stiff and shiny, about 5 more minutes.
Bake the first batch until the cookies are shiny and rise 1/8 inch to form a "foot," for about 20 minutes. Transfer to a rack to cool completely. Repeat, using a double sheet for each batch. Peel the cookies off the mats and sandwich them with a thin layer of filling (see below).
For the Filling
Tint the batter with 2 drops of neon pink gel food coloring; flavor with almond extract. Fill with seedless raspberry jam (you'll need about 3/4 cup).
Use a clean piping bag to pipe the filling on top of the bottom cookie. Now place another cookie on top. Repeat with the remaining cookies and filling.
Notes
This Macarons recipe is made with French Meringue